Teaching
Prof. Ihde offers the following options to learn and implement the Technology of the Strategic Implant® in your clinic:
Info evening / small intro courses: Find out how the method of Corticobasal® Implants works for you.
All-in-One-Week Curriculum Education (may be augmented with additional clinical days in the same location).
Location: Belgrade/Serbia & Moscow/Russia
On request: on-site support through one of our experienced teachers
Stop osseointegrating! Use a modern method of oral implantology.
Contact [email protected] or WhatsApp +381 69 394 3788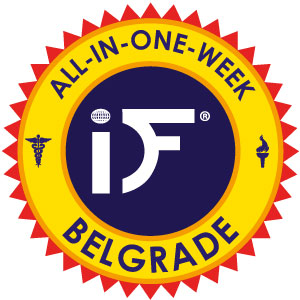 International Implant Foundation IF®
The International Implant Foundation IF® is a medically-guided none-profit organization, formed by a global network of surgeons and prosthetic therapists, and the premier education, innovation, and research organization for the treatment with oral implants in a functional immediate loading protocol. It is located in Munich, Germany, though its members and teachers come from all over the globe.
The foundation issues its own scientific journal in oral and maxillofacial implantology: CMF Implant Directions®. This journal was first published in 2006. The advisory board of this journal includes leading implantologists and maxillofacial surgeons from around the world. Prof. Ihde regularly contributes articles and case studies to this journal.
Since 2006, the foundation's scientific council has regularly published consensus documents on modern technologies in the field of immediate functional loading. However, on the basis of scientific research, information on technical possibilities and a vast clinical experience, these documents are constantly updated and made available to the public.
Prof. Ihde has been a teacher for the International Implant Foundation IF® since the very beginning and has served as Head of the Dental Faculty in the past. He is currently Head of Research and Development as well as one of the main teachers, especially for Curriculum classes.